The Morning Show is a drama surrounding the lives of the employees on the breakfast news programme of the same name. It's an inside look into the nature of the job, and the men and women who wake up every day to bring America the news.
When the boat is rocked by allegations of sexual misconduct against one of the Co-Anchor's, the series delves into the effects this has on the company, the lives of all involved, and a series of impulsive decisions ensue in order to keep the broadcasting show afloat.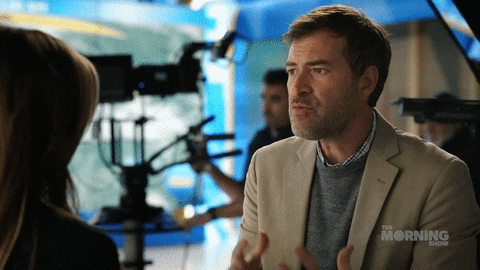 One of the ways The Morning Show reels you in is in its perfect casting. With almost too many stars and central characters to name, it brings together a diversely talented crew, all who offer significant parts in telling the bigger picture. So, we'll give you a round-up of our favourites.
First up is Jennifer Anniston, and whilst her character may be considered "aged" and at the end of her prime-time, Anniston is certainly not. Starring as Alex Levy, the successful and charming co-host of the breakfast show, Anniston without a doubt steals the entire show. The energy she brings to her role is contagious and it just may be one of our favourite performances from her, ever. Our favourite moments? As the underling pressure builds up in Alex, her rage escalates and we see her breakdown a few times. With this she explodes with feistiness and it's both absolutely hysterical to watch, but also very endearing. We've also never heard her curse so many times in quick succession, and yes, we are living for that.
Equally captivating is Reese Witherspoon as field reporter Bradley Jackson. Fresh on the scene to the show, Bradley is the truth teller and go-getter they need to keep up their news ratings. She's the resistance and she's rough and ready, giving an impassioned and soft southern-speaking enactment.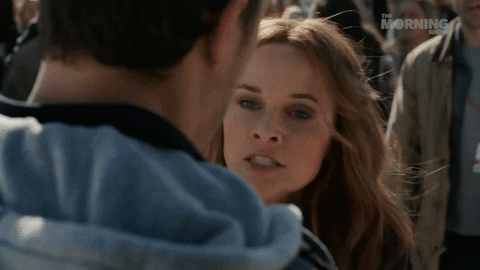 Quite the opposite of the two aggressive leading ladies is the character of Hannah Shoenfeld, the head talent booker. Played by Gugu Mbatha-Raw, Hannah is a pivotal character who encapsulates the core emotions of the series. She's portrayed with an edge of uncomfortableness, confusion, and a heavy heart, bringing a wake-up-call to the world of work.
Finally, the male leads are all so varied and brilliant in their own right. Steve Carell is a particularly clever casting choice; our very own lovable and funny guy who's graced our screens across comedies-a-plenty, you're sure to believe his character, the accused Mitch Kessler, could do no wrong. Carell brings an uncomfortable likability to his arrogant and brazen part.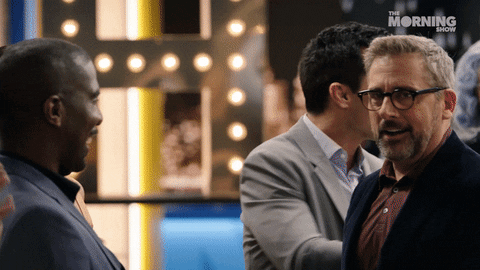 Then there's Chip, the executive producer, portrayed by Mark Duplass. He has a pretty dry humour and a whole dead-inside vibe going on, whilst effortlessly highlighting the nature of deceit in the workplace, be it for, or against co-workers. Chip is definitely a character that needs some warming up to, but as the series' balancing act, Duplass gives a likeable and well-rounded performance. When it comes to Nestor Carbonell's role as meteorologist Yanko Flores, he brings the sense of normality and sensitivity the show needs. Armed with a nearly feel-good side-plot, the actor smoothly achieves his mission, which is no doubt to make the nature of the shows key topic all the more confusing and difficult to judge. Best of all, is the audacious, smarmy, and goading personality of Cory Ellison. Brought to life by Billy Crudup, Cory, is an outrageous and side-splitting inducing addition to the show, giving Anniston a run for her money as the series' gem. You'll love to hate and you'll hate to love Cory, but whether you like it or not, he will take the crown as one of your favourites.
We can't think of a reason as to why you shouldn't.
As you'd expect from Apple, it's polished and sells itself through style. You'll get to live the life of those on top; breathing in stunning shots of New York City, and in awe at the flashiest of apartments and houses. It's a bright and pleasing television series, but this of course is all intentionally juxtaposed with its dark commentary for heightened contemplation.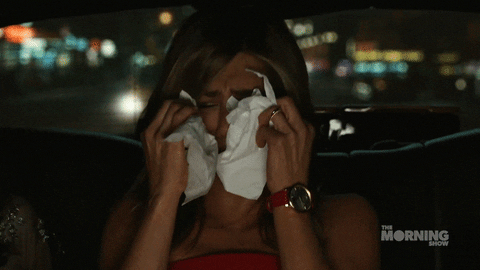 The Morning Show is a stirring piece of television though. It's topical, timely, and likely more relevant now than ever. It handles its focal point of the #MeToo movement in a realistic and formidable manner, shining the light on the dog-eat-dog world of today. There's double crossing, back-stabbing and blurred loyalties where morals and values are traded for success. Prepare to enter the cut-throat environment of the workplace, and one which leaves no room for anything but detriment, devastation and horrifying consequences.
Also on the cards is perhaps one of the best season finale's of a drama series in a long, long time. Season one wraps up with a phenomenal ending; it's moving, it's powerful and it'll do everything you want it to and more. You'll laugh, you'll cry, and you may even be faced with an operatic scuffle that will absolutely be one of the highlights of your watch. We're sure you'll have a few goosebumps by the end of it, and like us, we think you'll be counting down the days until season two. All hail that speech.

Little Fires Everywhere (2020)
Mad Men (2007-2015)
Sharp Objects (2018)

Apple TV+
IMAGES COPYRIGHT – 

Apple TV

+