Directed by Derrick Borte        |        Released 31 July 2020 (UK)
Unhinged was the first new studio release presented to audiences in the UK following lockdown back in March. Since opening up again cinemas had been booking older franchise movies and classics in their attempts to entice audiences back into their screens. We checked this one out as a test to see what the new cinema experience was going to be like.
Taking the audience on a violent tumultuous ride around town, Unhinged is perhaps the ruthless maniac thriller you maybe don't need to see on the big screen. It is sort of cross between a silly teen drama and a badly written horror flick, all the while sending a very pertinent message about how angry the American people have become in recent years.
A disgruntled man with serious road rage and an insatiable intolerance for impatient people retaliates after a young woman vigorously toots her horn at him at traffic lights. Fuelled with malicious hate, The Man thrashes out and goes on a murderous rampage against the young woman and everyone she cares about.
Crowe is adaptive as the raging character known as 'The Man' and plays the part well in terms of scare factor and suspense. We do get a glimpse into what made him this way, but his retribution doesn't seem all that justified for him to snap and lash out at a young woman the way he did, and certainly not for him to then annihilate her entire family and friends circle all because she tooted her horn in a line of traffic.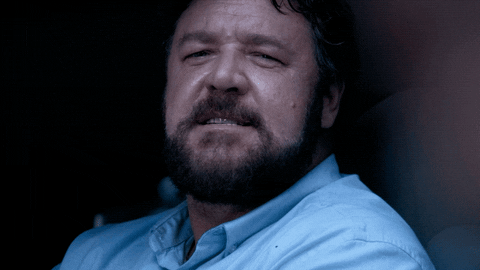 The part of Rachel is portrayed by Caren Pistorius, at first Rachel seems like a somewhat sensible person however, when events take a turn for the worst, her rash idiotic decisions make her intolerable and unbelievable. In thinking that she could take on a raving lunatic alone, subjecting her son to imminent danger, and not alerting the authorities, all equate to her character and judgements being exaggerated and far-fetched -to the point of despair. This may have very well been the intent of the filmmaker, but actually, all it does is want to make you palm smack your forehead.
From our POV, any great thriller requires believable characters and valid motivations. We don't mind a few senseless decisions but a whole 90mins full of them? Unfortunately, this movie is utterly predictable to the point of exhaustion and would require more than just fancy crashes to make it plausible.
However, if there is a take away message embedded in this movie it is that: think before you honk your horn at drivers, you just never know who is behind the wheel, and their intentions.
This is definitely one for the streaming list.
SB Rating = 1.5 / 5