Directed by JJ Abrams   |   Released 19 December 2019    |   Runtime – 2hours 22mins
___________________________________________
WARNING! THIS REVIEW CONTAINS SPOILERS!
The force is strong. But perhaps not quite as strong as before.
Let's be honest, there is no other franchise quite on the same level as Star Wars. So, when Disney announced they were buying Lucasfilm and that they fully intended on making episodes 7, 8, and 9, a dose of abhorrent fear ran through the veins of many Star Wars fans. That being said, once the marketing materials were released for The Force Awakens, people started to get really excited, and suddenly we had a new Star Wars movie to obsess over.
It was a relief to see JJ Abrams back in the director's chair for this one as the confused story of The Last Jedi baffled fans, left a lot of cliff-hangers, and lots of unanswered questions. This film pulls the story more into alignment with The Force Awakens, which sees balance returned to our screens and the Skywalker saga end, respectfully.
This film should have probably been a trilogy in itself because of the mass ground it covers in nearly two and a half hours, since Abrams managed to conjure up every emotion and action-scene conceivable and jam-pack them into this feature.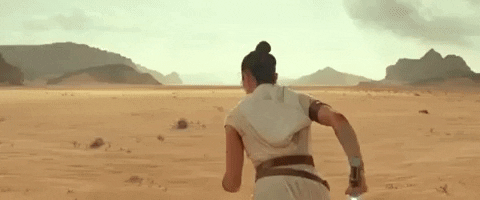 The Lowdown
The focus is very much on Rey and Kylo's tantalisingly turbulent relationship and what will eventually become of the pair. Rey's Jedi training is almost complete – not that we got to see very much of it – and she has but one final task to endure before she becomes a true Jedi. In order to do this, she needs to seek and find the Sith pathfinder. Ren endures this game of cat and mouse with Rey as he is determined she belongs on the Dark Side beside him.
Whilst these two are fixated on in close-contact descriptive scenes, everyone else seems to be off on their own adventures in the fight to save the galaxy and bring down the First Order. Po and Finn are to lead the Resistance now and stand up to the terrors presented by the dark side.
We discover eventually that the evil Emperor Palpatine is alive and well. He has survived all these years by some sort of mechanical string device in a dark and dismal underground far, far away. As it turns out, he is the very person Rey needs to confront.
What?! You mean to say Palpatine didn't die? After everything everyone sacrificed? How dare he.
The Verdict
The Rise of Skywalker introduces us to many new interesting characters, some from our hero's past. The filmmakers really made an effort to ensure that everyone was included in this film with a variety of multi-cultural roles and same-sex relationships. We have new Lightsabre fights, epic battle scenes, spaceships, otherworldly creatures, and also, huge blasts from the past. The nostalgia is Pal-pa-tat-ing.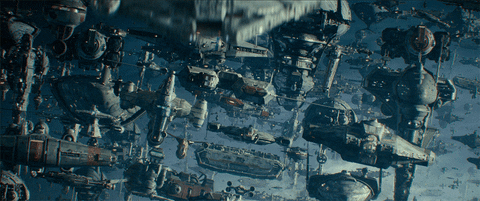 As well as a variety of emotions, humour plays an enormous part in this movie. Po and Finn get the award for best comedic duo in the galaxy.  Their bromance keeps scenes light and intriguing even in the most time-constraining moments.
One of the most unexpected reveals in this movie was the fact that Rey is a Palpatine, and she finally discovers who she is, and what she must do to save everyone she cares about. This could have easily gone the wrong way but, all things considered, it was the surprise that no-one saw coming.
We also say a final goodbye to our intergalactic Princess. Yes, this was Carrie Fisher's last ever performance on screen before she sadly passed away in 2016. The film is built up with emotion and has plenty of tearful moments that will punch you right in the gut.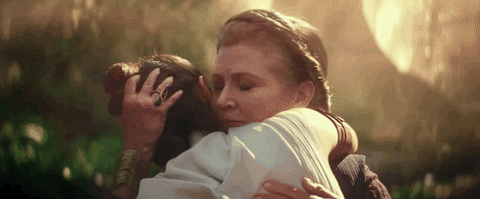 Finale
The Rise of Skywalker is the conclusion to end all conclusions, the finale, the end of the line for the Skywalker saga.
Where it falls down is those burning unanswered questions and unexplored character backgrounds. It would have been refreshing to see how Rey's Jedi journey built up and how she got from being a novice to a pro between movies. Another point to be made is the fact we have an on-screen trio that come together in the end much like in the original movies with Luke, Leia and Han, but we never truly get that feeling of translational friendship like we did before. Finn, is a key character in this trilogy because he was a stormtrooper that escaped the clutches of the First Order, but again, nothing more was really explored with his background.
Despite the fact we do have some answers, it still leaves a lot of important information out. For example, will we ever really know what Finn was so desperate to tell Rey? This was a prominent part of the story and mentioned more than once!
It seems as though we will never replace the feelings that were awoken in the original Star Wars trilogy. Although this movie isn't perfect, it does have plenty of nostalgic and special moments which fans will appreciate nonetheless, and will be left with a lump in their throat.
Most Star Wars fans will love Star Wars no matter what, so in this case we say to every single one of you: 'May the force be with you… always.'
____________
Available to watch now on Disney Plus
images/video copyright: Disney, Lucasfilm, Star Wars