Directed by Pete Docter  and Co-directed by Kemp Powers       
Released 2020    |     Runtime 1h 40m
The latest addition to the Pixar universe is Soul, and this time, we think it's one for us adults. Soul is a fantastical animation about a school teacher who has lost his passion for music. Upon finally getting his big break, our leading character, Joe Gardner (Jamie Foxx), is accidentally separated from his soul and must reunite it with his body with the help of an infant soul, 22, (Tina Fey) who is also learning about herself and the world.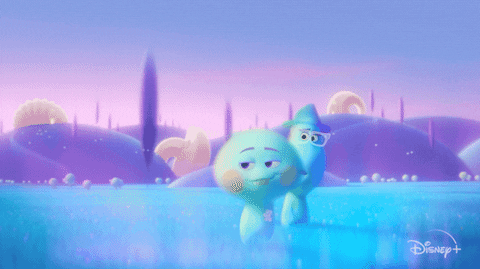 Soul really is an imaginative feat. Pixar knocked it out of the park with the likes of Up, Coco and Inside Out in particular, and Soul gives you all of those same fuzzy feelings on a backdrop of pure wonder and imagination. The animation is stellar, from the fine details on our central characters and the photorealism of New York City, to the abstract and very ethereal beings in the 'Great Before'. When Joe is in New York City, it's almost too realistic that you have to do a double take; the animation team have included everything that makes NYC the city that never sleeps, from the chaotic and overcrowded sidewalks, to the frenzied noises of sirens and traffic, and even with the accuracy of how bleak and joyless it feels to ride the subways. As for the Great Before, it truly is spellbinding; the cosmic plane is full of blue, purple, green, pink and yellow hues all offering a calming and angelic angle to the other world – after all, this is the place where souls find their unique personalities, their spark, and prepare themselves for Earth so it has to give off good vibes. When a film looks this good, it's also got to sound just as good, and Soul certainly matches up here, sporting an enchanting jazz score.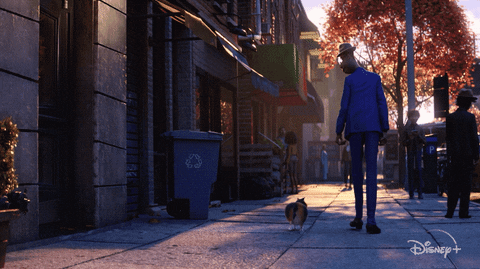 There isn't a more perfect fit for the film than Jamie Foxx stepping into the lead role. Foxx brings his well-known comedic and dramatic abilities to life as the passionate jazz pianist, and you can count on the fact that you'll enjoy the bumpy ride his character faces. There's just something about Foxx's delivery; he'll have you giggling, feeling empathy and really investing in Joe's story. Maybe it's Foxx's background as a musician that levels up the believability here, because you really get lost in Joe's inner-workings of his mind and his upmost determination to make his first real gig. As for Tina Fey, the whiney and disgruntled tone she attaches to her character works a treat; 22 has a dim view of life and she really is a lost soul (pardon the pun) but her lines in particular are humorous with a dash of social-consciousness – "you can't crush a soul here, that's what life on Earth is for".
Graham Norton works the carefree and kooky soul that is Moonwind, NYC's spiritual sign twirler; he's a fun addition to the film and one we're sure the kids will enjoy as he pirates his floating ship across the Great Before. As for the other co-stars, Alice Braga and Richard Ayoade perfect their counsellor roles; Braga offers optimism and kindness, whilst Ayoade's counteracts this with sardonic yet comical lines. Phylicia Rashad and Angela Basset both also breathe more life into the animation, thanks to their no-nonsense and regal attitudes as Joe's mother and jazz musician Dorothea Williams.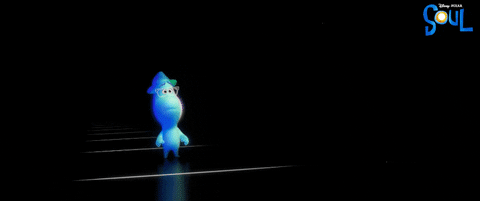 Thematically, Soul will cut right to the heart of its adult viewers. It toys with ideas of how personalities are created and how we are all born with dreams, even before we are on Earth. Some of the deeper themes are almost harrowing; the lost souls who transform into bleak and scary monsters, wandering the Astral Plane, become this way because they attack themselves for anything they can't do, or if they become too obsessed or caught up in something that isn't necessarily bad – it's how you imagine depression to look, if it were an object, and this itself oozes a lot of feeling. Soul also raises questions about an individual's purpose in life, but it's more about giving yourself a second chance, and a reminder to enjoy life and all of the little things in it. It's a deep film and though completely fictional, by the time the credits start rolling, you'll notice there's something oddly comforting about the way Joe's story and the meaning behind it plays out.
SB Rating = 4.5 / 5
Images copyright: Disney Pixar