Directed by Rose Glass  |  Released 2019  |  Rated 15  |   Runtime 1h 24mins
Saint Maud is the newest horror to hit our theatres this October. The trailer offers up eeriness, action and sinister forces, all packaged between positively glowing reviews of the A24 film.
Written by Rose Glass for her feature directorial debut, the movie stars Morfydd Clark as a nurse who leaves the NHS and takes on a job looking after Amanda Köhl (Jennifer Ehle), a terminally ill ex-dancer. On the surface, Maud has her nursing duties down to a tee; she cooks, cleans, cares and bonds with the sharp-tongued Amanda, but inside, she is crumbling and begging for a purpose. Glass utilises the film to paint an intriguing figurative picture, but there's something missing in Saint Maud that means it doesn't bite quite as much as the trailer suggests. The end result? You walk into the cinema expecting to be shaken to your core, and instead, end up leaving feeling a little flat.
Glass' writing and directorial talents are not to be criticised though, as she offers thought-provoking themes and executes them with a sense of grace. Saint Maud delves into Ari Aster territory, exploring religious callings with a fair amount of originality. What stands out here is the psychological breakdown that audiences are witnessing; Maud's loneliness and past troubles formulate her demise and though too vague, we get enough glimpses to conclude that she has faced her own forms of abuse, and a terrifying, near career-ending experience with the NHS (which further highlighted the lack of supportive figures surrounding her). She has and still dabbles in self-harm (cue some teeth-gritting clips of blisters and the painstaking action of planting spikes in her own shoes). With this, Maud turns to God, yearning for reckoning and truly believing she has been chosen to act as Amanda's saviour. Even so, as her character arc is nearing completion, she switches her nurses outfit for an out of character glittery and revealing top, engaging in a reliance on alcohol and some gross but weirdly funny sexual scenes that echo her need for validation. For Maud, it seems she has been consistently looking for something to make her feel better and whole again.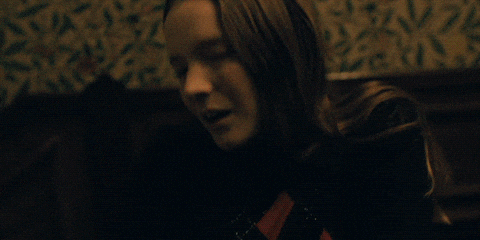 The performances from our female leads are compelling and dominating; Clark oozes innocence and her character's inner troubles wear tiringly on her face and expressions, whilst Ehle adds a careless and rebellious outlook to her own woes. The cinematography further echoes Maud's moods; the Scarborough setting may offer warm bright neon lights as she walks past the arcade centres, but they're only there to showcase the desolate – be it Maud's solemn expressions, the lost souls on the streets, and the dirty experiences she finds herself in. At the same time, the humming and juddery score appropriately echoes Maud's internal breakdown; the more elevated the pitch, the worse her state of mind.
All of this proves our point that the film has been intelligently put together, and it really does offer a promising career for Glass and her future features. The problem with Saint Maud is hard to pinpoint, but the slashing of our rating comes down to the fact that it's a very slow burner without the runtime or depth to make it worth it, and it's not actually very scary. Sure, there's the odd creepy moment but the pace feels more like a dark drama. Then there's the final sequence, in which there are some surprising and well carried out visual effects that hammer home Glass' point, but the problem is that they appear so quickly and seemingly out of the blue, they end up displacing audiences and taking them out of Maud's world. Though shocking and despondent, the final moments instead urge the film to consider why it withheld so much backstory and failed to answer our pressing questions. In short, the thought and analysis of Saint Maud is more enjoyable than the actual viewing experience, and it didn't leave us fulfilled enough to go for a repeat showing.
SB Rating = 2.5 / 5