Directed by Bong Joon Ho     |     Released 2019    |     Runtime 2h 12m
Parasite took the film industry by storm in 2019, and then it went onto win four academy awards in 2020. With the accolades of Best Picture, Best Director, Best Original Screenplay, and Best International Feature Film under its belt, this South Korean flick had everyone talking about it. So, is it worthy of its amassed hype?
Yes, yes, yes!
Bong Joon-ho directed and co-wrote the screenplay with Han Jin-won (Okja), telling the story of the Kim's, a poor family who infiltrate the wealthy Park's family household by posing as unrelated, highly qualified individuals. It's a hugely entertaining film, with some pretty harsh realities about class, wealth, and social inequality.
Nothing beats a brilliant story
Films can offer us satisfying jam-packed action, magnified characters, and fantastical worlds far too appealing for the average eye. Where Parasite excels though is in its realism.  The film offers us a meticulous script about humanity; it's one which is full of surprises, tension, and jaw-dropping moments that urge you to hold your breathe.
Joon-ho presents us with two families on either end of the prosperity scale. First, we meet the Kim family; father (Song Kang-ho), mother (Chang Hyae-jin) and their two children (Choi Woo-shik and Park So-dam) in their basement-esque home, all squeezed into one room with their windows open just enough so that the street fumigations flow in and kill off their household bugs. When an opportunity arises for the son, Ki-woo, to tutor a rich schoolgirl, he ropes in his sister to forge a college certificate to help him bluff his way into the job and into the Park family home. With one successful infiltration complete, the family band together to each slip into the house under various pretend-roles. Why? Because this is their best chance of getting by.
When it comes to the Park's, they are dramatically dissimilar to the Kim's. Their wealth feels at the cost of a separated family; the parents cannot seemingly connect to their younger son, nor is there much love or respect expressed between the two adults. Ironically, they are as distant as the large empty spaces in their uniquely architected house.
The initial infiltration has to be one of the most well-crafted plotlines of the decade. There's something cruel and wicked when watching the Kim's scheme go to plan as they try to take over the jobs of the current Park servants. With every seed planted, you'll find yourself cackling as underwear is purposely left in the back of the car, and a peach allergy is exploited; their plan is ingenious and fool proof, and yet you can't not feel empathetic to their determination.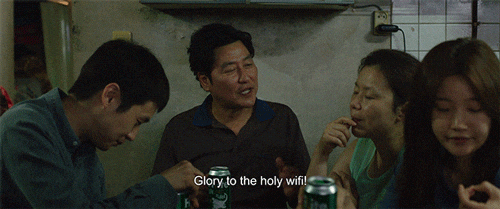 The story feels fool proof, never ceasing to amaze or shock viewers and constantly delivering an array of reactions. Joon-ho and Jin-won skilfully reinforce the narrative with stressful suspense, dark humour, heartfelt scenes and gobsmacking moments. Not to mention that the casting is equally perfect. Each actor morphs into their role so naturally and delivers their parts of the script with such elegance and believability; you simply cannot fault any of them.
There is no evil but that of inequality 
Parasite takes its characters and throws them into a string of bad judgement and bad decisions, but at no point will you find yourself labelling them as wrong or evil. The reason being is that what stands out as the most evil thing is the social and wealth inequality. The film is a strong social commentary on status, materialism, the patriarchal family unit and the seemingly unavoidable disruption caused by poverty. What stings the most are thoughtless and uncomfortable remarks; from how people who ride the subway have a certain "smell" or how people can be so easily disposed of if they no longer have a use to you.
In the end though, you can't blame the Kim's for their desperate actions; they are smart and use this to their advantage. You can't really hate the Park's for the way they want to live either, and, as it turns out, they had their weaknesses too. It is not the people Parasite urges you despair over, but the class system which shaped them that way.
The verdict
Parasite is a fresh, thrilling and infectious watch. Every ounce of it is well crafted, and it's no wonder this was and will continue to be a crowd favourite.
SB Rating = ★★★★★
Images copyright: credit to the owners