Ari Aster delivers a surreal sophomore feature
Possibly one of 2019's most controversial films, sit tight, get strapped in and prepare yourself for the terrifying trip that is Midsommar. Be warned: there's incest, trauma, barbarity and death all wrapped up into a twisted fairy-tale.
Following on from the success of his directorial debut, Hereditary, Ari Aster presents us with another startling flick. Midsommar stars Florence Pugh and Jack Reynar as a couple who travel to Sweden to experience the summer rituals of a rural commune.
If you're looking for a conventional horror, that's definitely not the route Aster goes down. Midsommar will fry your brain, fill you with dread, and whilst it certainly doesn't shy away from making you grimace, it won't scare you in the way you expect. Where the film succeeds is in doing so much more than that; brace yourself for an intense and unsettling psychological tale of grief and belonging.
Casting wise, Florence Pugh is a perfect fit to portray the troubled protagonist. Though the plot is enough to grab your attention, Pugh truly steals the show and you'll be captivated by her emotional range. With grief and suffering often taking precedence, she still manages to offer us an inside look into her character's bewilderment and vulnerability. Midsommar simply would not be the same if she wasn't a part of it. When it comes to her on-screen boyfriend, Jack Reynor, he's great, but could have given a meatier performance.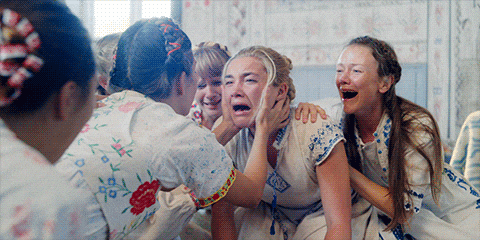 The plot feels Wicker Man inspired, modernised by the inclusion of recreational drugs and witticisms. Though the matriarchal cult storyline can often be predictable, nothing prepares you for how gruelling a watch Midsommar is.
Along with the lengthy running time, the film is so chaotic that you can't keep up with what you're seeing or how you're meant to be feeling. Such bedlam feels intentional though, as once all of the pieces of the puzzle come together, you can so clearly see the brilliance in Aster's symbolism and storytelling. The intensity of the film is also amplified by the score, which uses Nordic instruments and tribal language to heighten feelings of unfamiliarity and anxiety – it's utterly transfixing and jarring.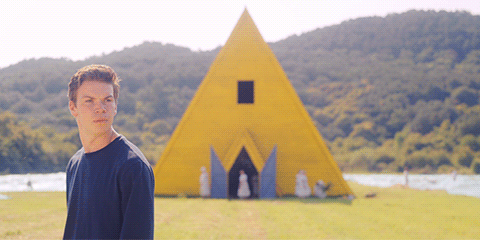 Throughout, it's impossible to take your eyes off the screen for fear of missing any of Aster's plot breadcrumbs or gruesome imagery. The chaotic and unnerving story is paralleled with aesthetics which are second to none; the stunning scenery and uninterrupted use of daylight and colour makes Midsommar incredibly visually pleasing.
Aster further brings the film to life by warping the natural shots so that the trees and flowers are physically breathing, whilst the sun is a reminder of the holistic views of the commune. Where violence occurs, viewers are confronted with hellish imagery, but are not always shown the whole picture and so much is left to the imagination. When it comes to head trauma, though, Aster is living up to his reputation and it's enough to make you recoil…though it's too bloody good to look away!
An erratic, tumultuous, and truly unconventional experience, once you watch Midsommar, it will linger and stay in your thoughts for some time. A powerful film with a macabre focus and jaw-clenching pivotal moments, sure to divide opinions.
Images/Video: Copyright A24, IMDb.com, Giphy