Chris Hemsworth Trades in His Hammer for a Gun in New Netflix Action-Thriller 
Directed by Sam Hargrave | Released 2020
Netflix has a long list of content on their books now, and choosing something to watch might seem like a bit of a chore these days. To assist users, the newest and most popular content gets pushed to the top of the main feed in attempts to get that first click on a Netflix original, before the endless scrolling begins.
Netflix original films have not exactly rocked our boats in the past. However, we have been seeing a lot more exciting stuff coming through recently, particularly flicks and shows featuring big Hollywood names. Many of their new content is becoming world friendly, meaning: they contain subtitles. Extraction debuts Marvel star Chris Hemsworth and is a prime example of this creative revamp.
 Extraction is set primarily in Dhaka, the capital city of Bangladesh. It tells the tale of a black-listed Aussie muscle-for-hire Tyler Rake (Chris Hemsworth). When an imprisoned crime lord's son is kidnapped and held for ransom, the family hire a team of private extraction experts to retrieve him. The mission takes the team into dark territory and tests the strength and resilience of our hero, pushing him to extreme limits.
Rake is a ruthless killer whilst on the mission, but when faced with children – even when they are pointing a gun in his face – he assumes compassion and solace. There are some tender moments in this film (perhaps a little too long in some scenes), to ensure the audience is fully invested in Hemsworth's character. Rake's background is intriguing and allows the audience to glimpse into his past. Grieved by the loss of his son, he takes residence in a grubby outback in Australia, accompanied by whiskey and pills. The audience now has a viable reason to sympathise with him, as he is a man on the verge with nothing much left to lose.
This movie gives no shit and takes no prisoners from the get-go. There is a lot of running people over with vehicles, shooting, fistfights, and explosions involved so, it is safe to say that this movie is a tad on the violent side. Some of the best features belong to the one-shot scenes, this brings some serious thrill to the film in a semi-realistic, sort of AI feel as if the audience is part of the action. All the coordinated fight scenes are exhilarating and carefully executed propelling Hemsworth into a fully-fledged action-man.
It is worth mentioning that the music and sound play a huge part in the telling of this story. Specific scenes are music-led meaning that the audience is prepped for what is to come next when they hear a particular beat.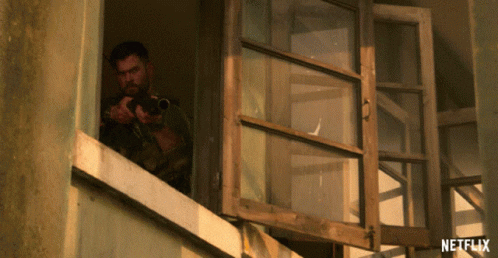 The movie isn't "all that" in terms of actual story-telling however, which is a shame. The not-so-hot elements in the film drag it down tremendously. The storyline is pretty linear, doesn't really grasp attention for its entirety, and is a bit drawn out. The film could have probably been cut down if it weren't so hell-bent on creating "mood". As an action-thriller, it should have been treated as such, instead of an attempt to become artsy in its endeavour.
All of that being said, overall this film did fit nicely into the rogue military category that we rather enjoy. Unfortunately, it missed out on ample opportunities to capture more of our attention and really pack a punch in terms of durability as a story. There just aren't enough interesting segments (action scenes exempt) to keep us occupied for 1 hour 56 minutes. It is worth mentioning that Netflix has given the green light for a sequel to be produced – we just hope the script is as supercharged as the action scenes. Come on Netflix, we know you can do it!
This film is very much likened to the Cinemax/Sky series Strike Back – if you haven't watched that show and love the genre, then we highly suggest you watch it.

images/video copyright: Netflix, imdb, Giphy