Directed by Jay Roach | Released 2019
Writer of The Big Short, Charles Randolph, teams up with Trumbo Director, Jay Roach, to shine the light on the downfall of Fox News CEO, Roger Ailes. Turning their attentions to the #MeToo movement, the pair present Bombshell as a dramatised true story, focusing on newscasters Megyn Kelly and Gretchen Carlson, with the addition of fictional character, Kayla Pospisil. The film explores the women's sexual harassment encounters within the network, and the allegations against Ailes.
Bombshell is an important and timely story. It depicts how sexual harassment and objectification is rife in some environments, and does a good job at illuminating the crassness of it all. When you've not got to watch the shameful sugar-coating of a business trying to keep their reputation, you're put in an even more uncomfortable position as you're forced to watch Ailes try and justify his perverse actions. What's more, the film opens your eyes as to why some victims really are too afraid to speak up. It's definite that the central topic is what makes the movie so crucial to audiences today, because it's not something of the past, but what makes the two-hour runtime worthwhile is its relentless determination to empower women everywhere.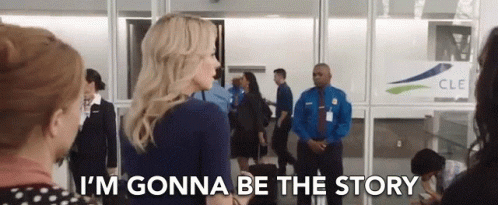 Casting wise, it hits the nail on the head. Charlize Theron undergoes a transformation as co-anchor, Megyn Kelly. Almost completely unrecognisable in appearance, she owns the show, and her presence never goes unnoticed. Nicole Kidman stars alongside as Gretchen Carlson, the newscaster who sets on her quest to shame the network for their wrongdoings and get justice. An unyielding woman, Kidman does a fantastic job at portraying her frustrated and hideously compromised position, whilst highlighting the trials and tribulations she had to go through to be heard.
Completing the trio is Margot Robbie as fictionalised Kayla Pospisil; she's smart, career-driven and very likable. Robbie's character is utilised the most to really convey the kind of grotesque encounters which went on in real life; her scenes are the most memorable for their uncomfortableness and volatility. Robbie encapsulates the true fear and vulnerability, really making the shock of it all hit home. John Lithgow metamorphosises into Ailes, putting on a fat suit and prosthetics, but it's not just his new look which helps him capture his character. Lithgow embodies the tyrant's lewdness, giving an effective performance and one that will keep you alarmed throughout.
Where the film doesn't score points is with some of its direction. Why? Bombshell has The Big Short written all over it; the style and tone feels too similar and it has too much of a mockumentary vibe to it. Whilst this isn't an unenjoyable film technique, it makes a very dark true story feel a little too light. More so, the film throws in a series of characters who aren't offered the depth they deserve; one minute you're laughing at Rudi Bakhtiar's character's inner monologue, and the next you're told the story of how Kate McKinnon's closeted Democrat lesbian is stuck at a place which is against everything she is. Whilst important to the theme, they are barely revisited and so end up serving more for what feels like comedic effect, instead of another direct challenge to the injustices. The same goes for when the film breaks the fourth wall, this hinders its ability to take itself as seriously as it should.
In the end, Bombshell is most definitely a must see, but it's not without its flaws. It seems its fiery portrayal of empowerment and determination just isn't enough to make this a five-star film.
images/video copyright: Lionsgate, credit to the owners, Giphy