Prepare to be spellbound for a second time as Disney make plans to reincarnate your three favourite witches
That's right folks, the Sanderson sisters are coming back!
Contrary to modern day fandom, the original 1993 movie wasn't actually all that successful, taking in under $50million the film was classed as a major box office flop. However, throughout the years thereafter the film has become a Halloween family classic and has revved up all those childhood emotions and memories in nineties babes.
Amuck! Amuck! Amuck!
Potential movie re-boot/sequel rumours had been flying around for a while however, in October this year they would be finally put to rest as it was confirmed Hocus Pocus 2 was officially on the table and to be produced exclusively for Disney Plus.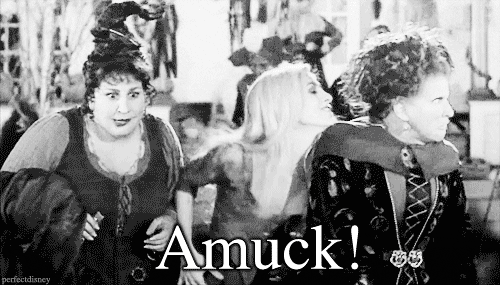 ---
Will the original cast be returning for the sequel?
The short answer: yes. Bette Midler, Sarah Jessica Parker and Cathy Najimy have already signed on for the second instalment, as for the rest of the original cast, we're not entirely sure at this stage. It may depend on where Disney choose to focus their attention, for nostalgic purposes it might be nice to have some of the original cast back on screen but fresher faces would be welcomed all the same.
Bette Midler gave an interview with People stating:
"They presented us with an outline, and after we picked ourselves up off the floor, because it's been 27 years, we looked at it and I think all of us agreed that it was pretty great… We're trying to see who's available and who's still out there and still working and who can come back."
As well as attempting to entice the cast into returning for a trip down memory lane, the movie has also found its director: Adam Shankman. Known for his on-screen adaptation of the broadway hit Hairspray and more recently conjuring up a sequel to Enchanted, Shankman has agreed to work his magic on the Sanderson sequel.
Shankman tweeted this earlier on in the year making his directorial move official:
The honor I feel in moving these beloved legacies forward is more than I could have dreamt. I hope to please all the loyal fans. That's what I tried to do with Hairspray. Thats what my goal is here. Wish me luck! xo https://t.co/6JSnJUlJRr

— Adam Shankman (@adammshankman) March 4, 2020
---
What will Hocus Pocus 2 be about?
IMDb has listed HP2 as being a comedy sequel to the 1993 movie, so we could speculate that it might follow on where the original left off – maybe a little time jump? A book was launched in 2018 and follows this exact theory.
Synopsis from the book titled 'Hocus Pocus and the All-New Sequel' :
"Twenty-five years later, Max and Allison's seventeen-year-old daughter, Poppy, finds herself face-to-face with the Sanderson sisters in all their sinister glory. When Halloween celebrations don't quite go as planned, it's a race against time as Poppy and her friends fight to save her family and all of Salem from the witches' latest vile scheme."
Speaking of books – the original movie did set up potential follow up material. Do you remember Winifred's 'little book'? – we know you said that in her witchy voice don't lie. There is a shot at the end of the movie where the spell book opens its beady eye insinuating that it is still 'alive' and wields power therefore, leaving ample opportunity for the witches to return and wreak havoc upon their next unfortunate victims, maybe in another 300 years?
---
Is there a Hocus Pocus 2 Poster and Trailer?
At the moment nothing has officially been launched with the exception of this poster – which we found on the IMDb website. We should however, expect some behind-the-scenes footage to surface on the internet once filming begins. Keep an eye out on cast social media channels.
---
When will it be released?
There is a lot of speculation around this, however it is looking likely that the sequel will be released on Disney+ on 31 October, 2021.