What's it about?
This year we'll be getting to see Candyman in a whole new light. Less of a reboot, and described as more of a "spiritual sequel" (IMDb), horror fans can expect to see Candyman conjured up once more and thrust into the 21st Century.
Since the original 1992 supernatural horror, the figure of Candyman has always been a talking point. Once the son of a slave, Candyman was attacked by a mob, and then became the hook-handed killer, always accompanied by a swarm of bees. The sequel's plot will return to the now-gentrified Chicago neighbourhood where the legend began, as distributor MGM has detailed.
_______
Who's Directing? 
Female director, Nia DaCosta, will be bringing a fresh Candyman story to life. DaCosta is known for Little Woods (2018), and previously directed two episodes of Top Boy (2019).
Jordan Peele, writer and director of Get Out (2017) and Us (2019), is also credited as Candyman's co-writer. Peele's first feature films were a success and sparked conversations for their ability to shock viewers whilst offering timely social commentaries, and we're convinced Candyman will be going down this route too.
_______
Who's in it?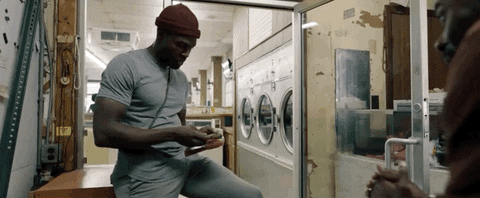 Yahya Abdul-Mateen II takes centre stage as the film's lead role, Anthony McCoy. You may recognise him from DC's Aquaman (2018) as Black Manta, or Cal Abar in HBO's limited series, Watchmen (2019).
Teyonah Parris (If Beale Street Could Talk, 2018) and Nathan Stewart-Jarrett (Misfits, 2009-2012) are also starring in the sequel. Parris plays Anthony's girlfriend, Brianna Cartwright, and Stewart-Jarrett stars as her brother, Troy Cartwright. Tony Todd and Vanessa Williams will also be reprising their roles from the original film.
_______
Trailers
Universal haven't stopped dishing out the trailers and teasers. In February, the full trailer was released, depicting how the gentrified neighbourhood is still haunted by the legend of Candyman. Teenage girls are calling upon him in front of the mirror, no doubt to prove he isn't real, whilst just the mention of the killer's name is enough to make the adults quiver in fear.
It looks like we can expect to see Abdul-Mateen II in all sorts of trouble too; the iconic bees are back with a sting and there's screams and violence aplenty. There are also some potentially big plot-giveaways, so watch and read with caution, as the trailer indicates that Candyman may in fact be an extension of Anthony, who even catches himself in the mirror with a hook for a hand.
Accompanying the visuals is Destiny's Child's classic track 'Say My Name', which has been given a haunting remix that's sure to get your spine-tingling.
Main Trailer:
Teaser Trailer:
In June, Universal also unveiled a 30 second teaser, proving the film will be even creepier than we thought.
The new teaser made its way out into the world not long after Universal's puppet-themed trailer, which we think has to be one of the most unique kinds we've seen in a while. Surprisingly, we think this version wins at setting the harrowing tone of the film.
The Paper Trailer:
Click here to watch the 'Paper Trailer'
The trailer is a surprising first watch and is more of a striking short-film than anything, but we think it makes the upcoming movie all the more intriguing. Set to a haunting and sluggish score, you'll see a number of stories intertwining, but the catch is they're all acted out through puppetry. The rare style of the trailer doesn't take away from the unsettling and graphic imagery as themes of injustice and racism are depicted. Across the different stories we witness; police brutality, the feeling of being watched, and explicit violence is shown.
All three of the clips have now made it undeniably apparent that the film will have a strong socio-cultural undertone, and with Peele as the co-writer, we're sure the film will be both a thrilling watch and an interesting, timely, social commentary.
_______
Release Date
Candyman is set for release on 16th October 2020. This date comes after being pushed back from its original release date of 25th September, amid the Coronavirus pandemic.
_______
IMAGES/VIDEO COPYRIGHT – UNIVERSAL, MGM